Guide: How to create a user in Altinn.no
Published: 2 June 2021
Before starting this process, please be aware that issuers should only have one user on Altinn.no.
1) Go to https://www.altinn.no/ui/Authentication/SelfIdentified (link to english version)
If in Norwegian, change language to English:
2) You will be directed to an English version of the page. Choose "Create a new user"
(In Norwegian "Lag ny bruker"):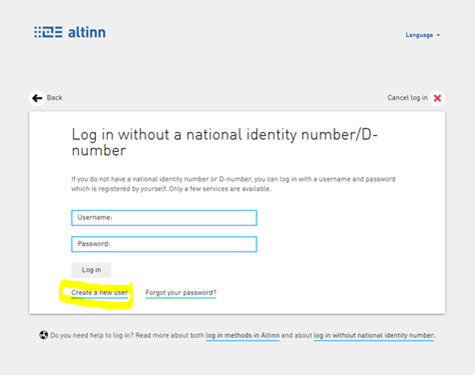 3) You will be directed to a page to create the user.

NOTE! The username MUST be the same as the email provided. The email must be a non-personal email, i.e. a generic company email (e.g. compliance@company.com). The use of personal email (e.g. name.name@company.com) as username will be disallowed by Finanstilsynet. The username cannot be longer than 60 characters.
We strongly recommend that the username used is linked to a shared inbox email address. This will ensure access to all previous submissions in case of change of the individuals in charge of submissions on your part. Altinn.no is a third-party platform and it will not be possible to migrate previous submission to an alternate username (email address).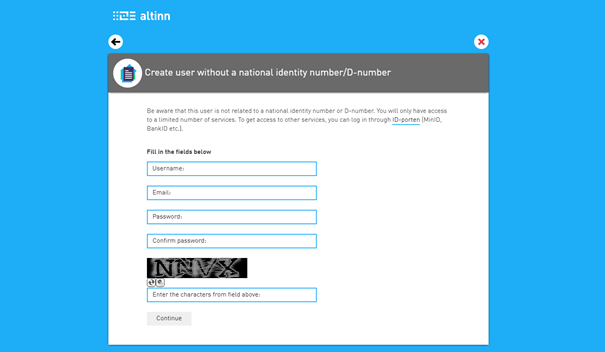 4) When the user is created, information about the user must be sent to Finanstilsynet. Please include this in the email:
- Username created in Altinn.no for approval and LEI (Legal Entity Identifier)
The information should be sent to KRT1003-rapportering@finanstilsynet.no. When the user is accepted, you will receive a confirmation from Finanstilsynet.